THIS MONTHS CONTEST
Go on a feather hunt. I have put budgie tail feathers throughout this site and you need to find as many as possible. Look all over, they can be in the least expected places! When you think you've found them all leave me a note in the guestbook, I'll post them here and I'll give you an award!

EXAMPLE
Hey Jasmine
I found all 56 (this is not really the # of feathers its just an example) of the feathers! Please hurry and give me the award!

PRIZES
Everyone who enters gets their findings ( and award)published here. If they don't have a home page I make one for them. (I only make one about budgies)

ENTRIES
This is from Cocky the budgie. He is the winner of last months contest. Congradylations!!
Cockys are white. Blue birds are blue. Budgies are cool, And so are you! Check out his web site at:

ENTRIES FOR THIS MONTH:
Ashleigh from Melbourne, Australia won!! She found all 8 feathers! Here is her award. You can visit her site by going to the top sites list (link on the homepage)or by going to her link at the other budgie sites page.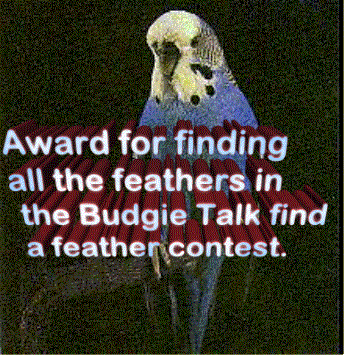 Budgie Poll
How much do you like budgies?
Want to ask me a quick question, got an idea, just click the send me a compliment link and type away!

Send Me A Compliment!